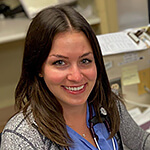 Alexandra Abt has been a Physician Assistant in Acute Care Family Medicine Department at the Dauphin Regional Health Centre for two years. Alexandra works on the 40-bed in-patient ward along- side 24 family physicians.
A typical day for Alexandra involves rounds, assessing patients, ordering blood work and imaging, working with doctors, residents, nurses, occupational therapy, physiotherapy, home care, communicating with physicians regarding care plans and discharge plans.
Working in rural Manitoba, Abt recalls an occasion where her intervention ensured a patient with multiple organ issues received life-saving care from a specialist in Winnipeg and was able to be returned to Dauphin for on-going care.
"I love the variety of my work," said Alexandra, adding, "it is truly a multi-disciplinary approach to patient care in hospital and ensuring continuity of care as we transition patients home safely."
Physician Assistant