Travel Nursing

Start your nursing adventure in Manitoba's North, today.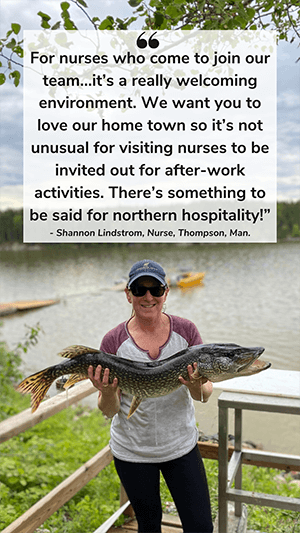 Travel Nurses enjoy unique work assignments across Manitoba's north, with flexible scheduling and opportunities in remote, urban and rural settings. Opportunities exist for casual RPNs, RNs, or LPNs.
With salary incentives, paid travel and accommodations, and more, your time in Northern Manitoba will be an experience you won't forget!
Incentive pay of $10 per hour and $65 per day for per diems
Diverse experience – work to your full scope of practice and enhance your skills
Free travel and accommodations arranged for you
Paid travel time (at your regular rate of pay)
Unique destinations – small community connections; cultural experiences; outdoor adventures
How does it work?
Eligible RPNs, RNs, or LPNs apply to become casual employees under the new Northern Health Region Travel Nurse MOU.
Flexible scheduling will allow you to work around your days off.
Worry free travel and accommodations, organized for you.
Experience what the North has to offer – for a week, a month, or a year!
Gain career-boosting experience and enjoy the hospitality and culture of Manitoba's northern communities.
Casual Travel Nursing opportunities in the below northern health facilities are available for nurses with experience in acute care (including Emergency, Medicine, Surgery, Obstetrics, Operating and Recovery room) and in long-term care and community (including Dialysis, Cancer Care and Home Care).
Participating Facilities:
Acute Care:
Thompson
The Pas
Flin Flon
Snow Lake
Lynn Lake
Gillam
Leaf Rapids
Long-Term Care:
Thompson
The Pas
Flin Flon