Abdallah Anam – Provincial Nursing Float Pool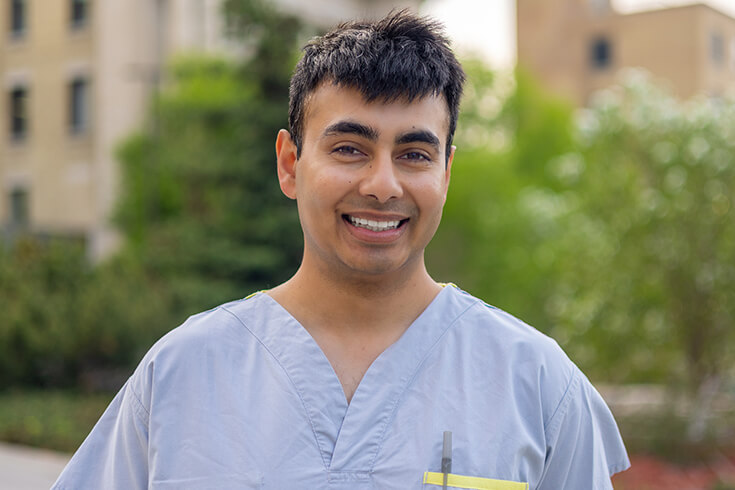 I graduated from nursing in Alberta a little over four years ago and immediately went to work at a large hospital in Calgary.
After two years, I moved to Canmore, excited to work at a smaller, rural facility that would allow me to explore work in a number of different clinical areas while living in a place with easy access to nature.
In June of 2022, my partner's work brought us to Manitoba.
I didn't know much about the province. I had heard of Churchill and wanted to see the Polar Bears but beyond that I didn't know what the province would have to offer.
We have now been living here for a year and I would say that Manitoba definitely undersells its many benefits.
As a nurse, this is a province where you can currently buy a home on a single income, something that is becoming less of a reality in many other parts of Canada. The cost of living is noticeably cheaper here than any major city in Alberta. And the lake country here is incredible! I had heard of Muskoka and Ontario lake country but I like this even better. It's close to the city and easily accessible but still so peaceful, serene and feels untouched.
The summers are also incredible! They are so much more beautiful than I realized, almost tropical. It is hot and it stays hot and I've been blown away by the plants, flowers and trees that can grow here.
Working as a nurse in Manitoba has given me the ability to experience both a large acute care facility and a number of smaller facilities in communities across the province. As a travel (or float pool) nurse I'm able to use the skills and competencies I have developed in labour and delivery in a large hospital, to help out in smaller facilities across the province.
Not only do I know that I'm helping in an area where my skills are needed but I am also able to expand and consolidate skills that I might not use as much in the city where we have easier access to specialized teams, like NICU.
In smaller facilities, making do with what you have requires you to work with your team, use everyone's different background and experiences, and think outside the box. It's exciting to work to a fuller scope of practice within a particular specialty. I've been able to use some of my obstetrics training, in specialized areas like resuscitation, to support care of a newborn.
Everywhere I have gone, the teams have been really welcoming and have done everything possible to integrate me into their close-knit core team, ease me into the role, and set me up for success.
Across Manitoba, that sense of community extends well beyond the walls of the hospital. My partner calls it "Pride in Place", meaning that across Manitoba, there's a real sense of working together and celebrating each other. It may sound corny, but in my experience, the handle "Friendly Manitoba", is very well deserved.