International Health Professionals
Hello! Bonjour!
My name is Monika Warren. I am a registered nurse and the Chief Nursing Officer for Shared Health, Manitoba's Provincial Health Authority. I'm excited to have the opportunity to tell you a little bit about living and working in Manitoba, Canada!
The contributions of health-care workers are important and valued by Canadians. Whether working as a physician, nurse, paramedic, or any other health care professional, your contributions will be highly respected by Canadians.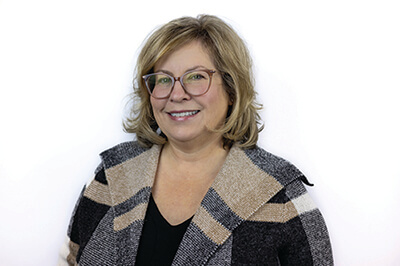 In Manitoba, you will be welcomed by your new coworkers and teams and your work environment will be supportive. I work in a nursing leadership role, but my connection to the important work of health care providers working at the bedside across Manitoba is very strong.
Manitoba is a beautiful province and an incredible home. Our communities are friendly, diverse and welcoming. Our access to nature and adventures in the great outdoors is almost limitless. And your opportunity to afford a home and build a comfortable and secure life for your family is within reach.
There is a place for you in Manitoba and I hope that you will join us.
– Monika Warren, Chief Nursing Officer
Manitoba, Your New Home
Located in the centre of Canada, Manitoba is one of the country's most affordable provinces.
Our communities are safe, welcoming, and multicultural. With many health care employment opportunities in supportive environments and communities that will welcome you with open arms, Manitoba will quickly feel like home.
Many professional jobs in healthcare are regulated in Canada. Each province and territory has its own regulator and registration requirements. In Manitoba, health care services are delivered by five regional health authorities, a provincial health authority and a provincial cancer authority.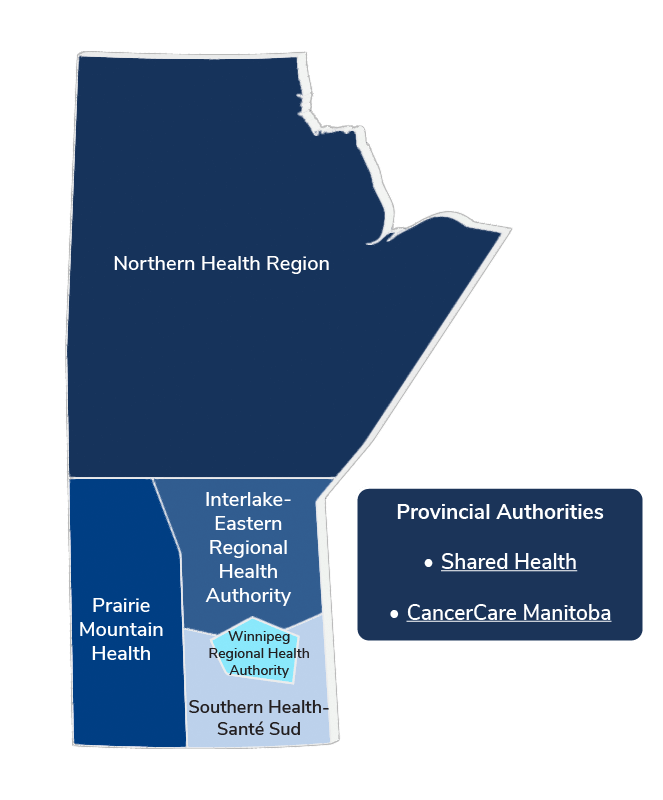 Prairie Mountain Health
• Population: 164,000
• 67,000 square kilometers
• The area includes Winnipeg's second largest city of Brandon.
• ~ 7,500 health care workers employed
• 29 hospitals, 43 long-term care facilities
Winnipeg Regional Health Authority
• Population: 750,000
• Serves residents of the City of Winnipeg and nearby communities, as well as the northern community of Churchill
• ~ 14,000 health-care workers employed
• 5 hospitals, 6 health centers and 37 long-term care facilities
Southern Health-Santé Sud
• Population: 216, 253
• 27,025 square kilometers
• ~ 6,100 health care workers employed
• 13 hospitals and 22 long-term care facilities
• Large number of Francophone communities
Interlake-Eastern Regional Health Authority
• Population: 133,800
• 61,000 square kilometers
• ~ 3,000 health care workers employed
• 10 hospitals, 16 long-term care facilities
CancerCare Manitoba
• Sets strategic priorities and long-term planning for cancer and blood disorders, as well as the delivery of clinical services for both children and adults.
• Cancer services are provided in communities across the province with most specialized cancer services delivered in Winnipeg and Brandon, Manitoba.
• ~ 1,000 health care workers employed
Shared Health
• Responsible for the delivery of a wide variety of provincial health services (diagnostics, laboratory services, emergency response services and more)
• Responsible for health services delivered at the province's largest hospital, Health Sciences Centre Winnipeg.
• These services support the care of patients from across Manitoba, northwestern Ontario and Nunavut
• ~ 18,000 health care workers employed
Northern Health Region
• Population: 74,175
• 396,000 square kilometers
• ~ 1,620 health care workers employed
• 6 hospitals, 4 long-term care facilities
• Approximately one-third of residents report speaking at least one Aboriginal language
Learn more about becoming an
Internationally Educated Health Professional in Manitoba
An Internationally Educated Health Professional (IEHP) in a regulated profession must be registered with the profession's regulatory body before they can work/practice in Manitoba. Registration can take many months to complete and has cost requirements.
Application for registration can be a complex process. It requires the submission of many documents, including education credentials, verification of work experience, resumes, proof of identification, proof of English language proficiency and sometimes proof of immigration status.
The process often involves an assessment of clinical competencies and can require additional training before an applicant is given eligibility to write the profession's national exam. Once these and all other/additional requirements are met, the regulator will then grant the applicant entry on to the profession's practice registry.
It is important that you learn what the requirements are for application to your profession.
The first step is to review the regulator's website for your profession.
This will provide you with accurate and current information about all of the requirements for registration, including important information about the steps and the sources of information you'll require. Some steps can start before you even arrive in Canada.
Some regulator sites include links and information about available supports and resources for IEHP.
List of regulated health professions in Manitoba
Below is a list of all the regulated health professions in Manitoba and their website. Many have a section for internationally educated (IE) professionals who wish to apply for registration. Please review the sites carefully.
Once all requirements have been met, you will be entered on the profession's practice registry and can begin to work in your profession in Manitoba.
Health Professions
Note: If you currently do not have immigration status in Canada, it is important to contact an immigration office to ensure you meet the requirements to immigrate to Manitoba and/or to be able to work here legally.
Immigration Information – Manitoba Provincial Nominee Program
---