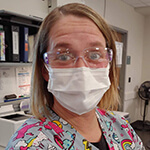 Amber Chrisp is a health-care aide working in Flin Flon's emergency department. It's a role that keeps her busy and fulfilled, providing her with a strong sense that she is making a difference in her community, each and every day.
Caring for others has always come naturally for Amber Chrisp. A single mother to three boys, she was looking for a career that was both meaningful and that would support her family. Born and raised in Flin Flon, Chrisp found the perfect fit working as a health-care aide (HCA). The role allows her to make a difference in the lives of patients and their families right at home in her own community.
"I've been a health-care aide for the past 24 years and would not change a thing. From the smiles on patient's faces to the hugs I've received, it has always made me feel grateful for having the opportunity to work in such a fulfilling field."
Health-care aides support many different areas within the health care system. Chrisp began her career working in a long-term care facility and then moved into a hospital setting, working in an acute medicine/pediatric unit. For the past five years, Chrisp has been working full time in Flin Flon's General Hospital Emergency Department, an important member of a multidisciplinary team of Registered Nurses, Licensed Practical Nurses, Emergency Physicians and a Respiratory Therapist.
"No two days are ever alike, it's such an exciting career." I chose the emergency department to challenge myself in a new area of health care."
Navigating the fast-paced and often high-pressure environment of an emergency department is challenging, but Amber remains a patient and calm support for those in need of care, offering a comforting word or a hand to hold as she goes about her daily tasks
"We see patients in all levels of acuity, and every day I am inspired to better myself to provide the best level of care I can to help my patients in their healing process."
As a team player, Chrisp understands the value her role brings to a patient's overall health care experience. Transporting patients, assisting physicians with procedures, preparing suture trays, sanitizing rooms for safety, and using her CPR training to perform chest compressions during emergency codes are just some of the activities that Amber is trained to support. While some days are more difficult than others, Chrisp always gives 110 per cent to her patients, helping them stay calm in stressful situations and ensuring they are well taken care of during their stay.
"I pride myself on being able to help the team and our patients anyway I can within my scope of practice to make each patient's experience a positive one."
Health Care Aide