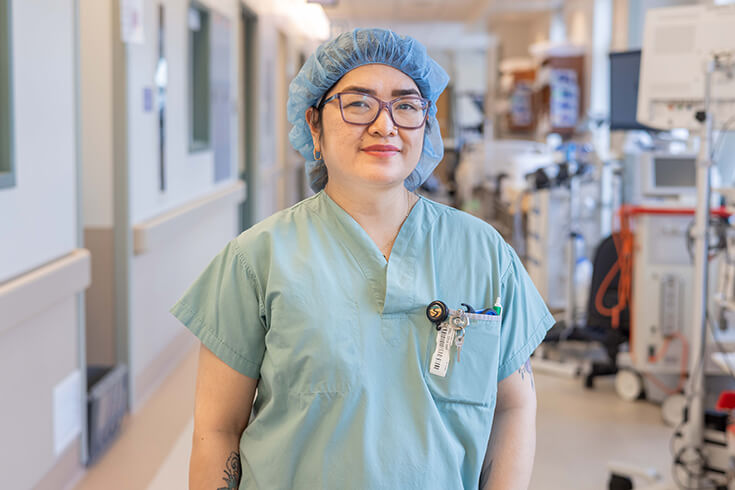 Ivy Garcia has been hard at work. A student in Manitoba's first class of operating room assistants (ORAs), Garcia and 29 peers at facilities across the province have spent the past 12 weeks blazing a new trail, participating in a demanding combination of online and skills lab activities that have prepared them for their new roles in surgical, operating and procedural environments.
It's a challenging schedule, well-suited to students like Garcia, who has significant experience working as a health-care aide and a perioperative aide and who was recognized for her strong work ethic and motivation.
"I was approached and encouraged to apply," said Garcia, who has worked as a perioperative aide in HSC Winnipeg for nine years. "They recognized my motivation and thought that I could be successful in leveling up my skills."
"The first half of the course was tough, learning the skills that would be one of the requirements to finish this course. My manager told me what to expect and once, I started working in the unit they helped me with everything I might need. I feel so glad that I am able to work in this area and I'm gaining lots of experience," added Garcia.
Each ORA is training and working alongside a nurse mentor who expressed an interest in participating in the program. The mentors have identified the duties within their day-to-day work that can be completed by someone other than a nurse and have been working with the ORAs throughout their education and training.
It's a role that Maureen Fudge, Clinical Resource Nurse in HSC's Plastic Surgery, Reconstruction and Burns Unit, was quick to express an interest in.
"When our manager first asked who would be interested, I put together all the duties that I am responsible for that aren't nursing roles, and felt that an ORA could really benefit our team," said Fudge, who is working alongside Garcia. "We do some pretty complex cases here and there's a lot behind the scenes that I support that is not nursing related, so having somebody to help has been really valuable."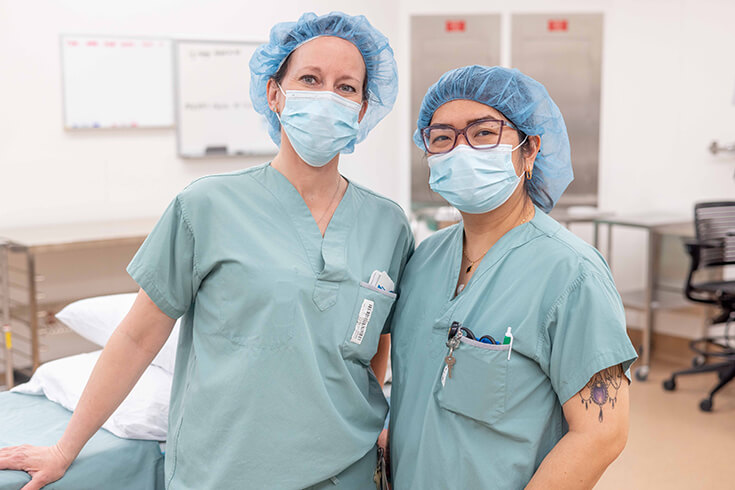 The connection between Garcia and Fudge is obvious as they talk about the role and the experience, expressing appreciation for each other and even completing each other's sentences.
"In plastics we are very much a team and everyone works closely together so fitting into that dynamic is important. We knew that Ivy would be a great fit since we've worked with her previously," said Fudge who has worked in the same unit as Garcia for the past nine years. "Ivy has had to learn a lot in a short period of time but she is committed to doing the work required, participating in the skills labs, and learning about the surgeries we are doing, the different equipment they each require, as well as things like how to open sterile supplies and how to turn the room over between surgeries."
On a day-to-day basis, Fudge said, there may be two or three plastic surgery operating rooms running at the same time. The addition of a dedicated ORA is helping Fudge complete her patient-care duties, while ensuring that the necessary work to prepare for upcoming cases is done, something that she sees as a significant benefit.
"I encourage my co-workers to participate in the program if they have the opportunity," said Fudge. "The ORAs can only help us. There are so many things that we do as a CRN that takes away from the time we have available for patient care. Having Ivy able to support those roles that don't need to be completed by a nurse has been so helpful."
This sense of appreciation for the newest member of the Plastic Surgery, Reconstruction, and Burns team is obvious and has created a welcoming, supportive environment as Garcia starts in her new role.
"They are so kind to me. I'm so blessed with those people who are around me right now. I love working with them and supporting them," said Garcia who confirmed that despite the hard work, she would make the decision to apply all over again.
"Yes, definitely and I encourage my more senior coworkers to consider this opportunity. Come and join the team. You have the ability and the capacity to do well."
---
Manitoba's first class of Operating Room Assistants are completing their studies on April 28, 2023. Join us as we congratulate them and wish them all the best as they embark on this new career.
Learn more about Operating Room Assistants, or apply for a future intake.