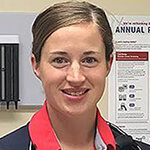 Dr. Savanna McKay grew up and graduated from high school in Swan River. She completed medical school at Northern Ontario School of Medicine in Thunder Bay, ON. and she completed her Family Medicine Residency through the University of Manitoba in the Parkland program.
"I chose to move back to Swan River to practice because of all the outdoor recreational activities available throughout all four seasons, including boating, camping, kayaking, hiking, snowmobiling, skiing and much more…"
Dr. McKay has been practicing since July 2017 in Swan River. Her clinic is located at the Swan Valley Primary Care Centre. When Dr. McKay is not in the clinic she is busy seeing inpatients and working shifts in the emergency department at the local hospital.
"One of the many benefits of working in Rural Manitoba is that the relatively new clinic and hospital are great facilities to work and the clinic has a very supportive group of colleagues to work with."
During the interview, Dr. McKay indicated that rural life offered many benefits, such as; great outdoor recreation opportunities and quiet rural living very supportive communities (lots of fundraisers for medical equipment, etc.).
Dr. McKay stated that, she doesn't have to wait to go on vacation to have fun, explore and enjoy outdoor recreational activities, instead she enjoys the fact that all these luxuries are available every day after work and weekend within close distance.
Family Medicine Physician