"I was born and raised in northern Manitoba. When I left home to train as a nurse in Winnipeg I thought I might travel to work elsewhere but after I graduated, I came home.
I've been a nurse for 28 years. I think working up here you get a broader nursing experience than you would many other places. You have an opportunity to handle a wide variety of cases, and it's really interesting work.
I work in maternity but because it's a smaller facility, we don't just work in one area, we're cross-trained to work in all of them. In my case, I can work in labour and delivery, obstetrical triage, pre and post-partum care, and also in the nursery where we manage intermediate care and sometimes higher risk babies. I've been fortunate to be able to work in all of these areas throughout my career.
The opportunity to work in the north gives you exposure to a lot of different scenarios. It's such a great experience and you're never alone to figure things out. The team up here has your back and there's always someone to help or talk you through a particular case.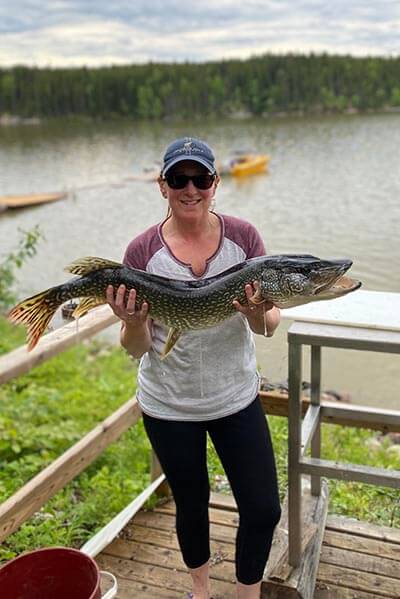 We are a close-knit group, not only with our nursing colleagues but with the physicians, dietician, housekeeping and so on. It's a community.
For nurses who come to join our team, either for a few shifts or who decide to come back regularly, it's a really welcoming environment. For those of us who are from here, we want you to love our home town so it's not unusual for visiting nurses to be invited out for after-work activities. There's something to be said for northern hospitality! The north is my home and I love it up here.
My family loves the outdoors and the north offers endless adventure just minutes from town. In the summer, there are nearby locations great for camping and fishing. There are a lot of good trails for hiking or ATV'ing. And in the winter, we bundle up to snowmobile, ice fish, or even hit the slopes at the nearby ski hill!
The north is my home and I love it up here."
– Shannon Lindstrom, Nurse, Thompson, Man.