Medical Radiation Technology
Medical Radiation Technologists
Medical Radiation Technologists (MRTs) are the professionals who contribute to the diagnosis and treatment of patients by using the most sophisticated imaging and therapeutic technologies to provide physicians with high quality images of the internal structures of the body, as well as radiation treatment to patients. There are four (4) disciplines of MRTs:
Radiological Technologist: using x-ray/CT equipment and by placing patients into different positions, images of the internal structures of the body are taken.
Magnetic Resonance Imaging (MRI) Technologist: uses magnetism, radio waves and computers to acquire images.
Nuclear Medicine Technologist: Prepare radiopharmaceuticals, which are administered to the patient. A special camera is then used to produce images.
Radiation Therapist: Using focused beams of radiation, these technologists provide treatment to cancer patients. They are also responsible for counseling patients on the possible side effects from radiation treatment.
Medical Radiation Technologists (MRTs) are an integral part of the healthcare team who perform diagnostic imaging examinations and administer radiation therapy treatments. In Manitoba there are many opportunities waiting for you. For career opportunities please visit Shared Health, Winnipeg Regional Health Authority, or CancerCare Manitoba.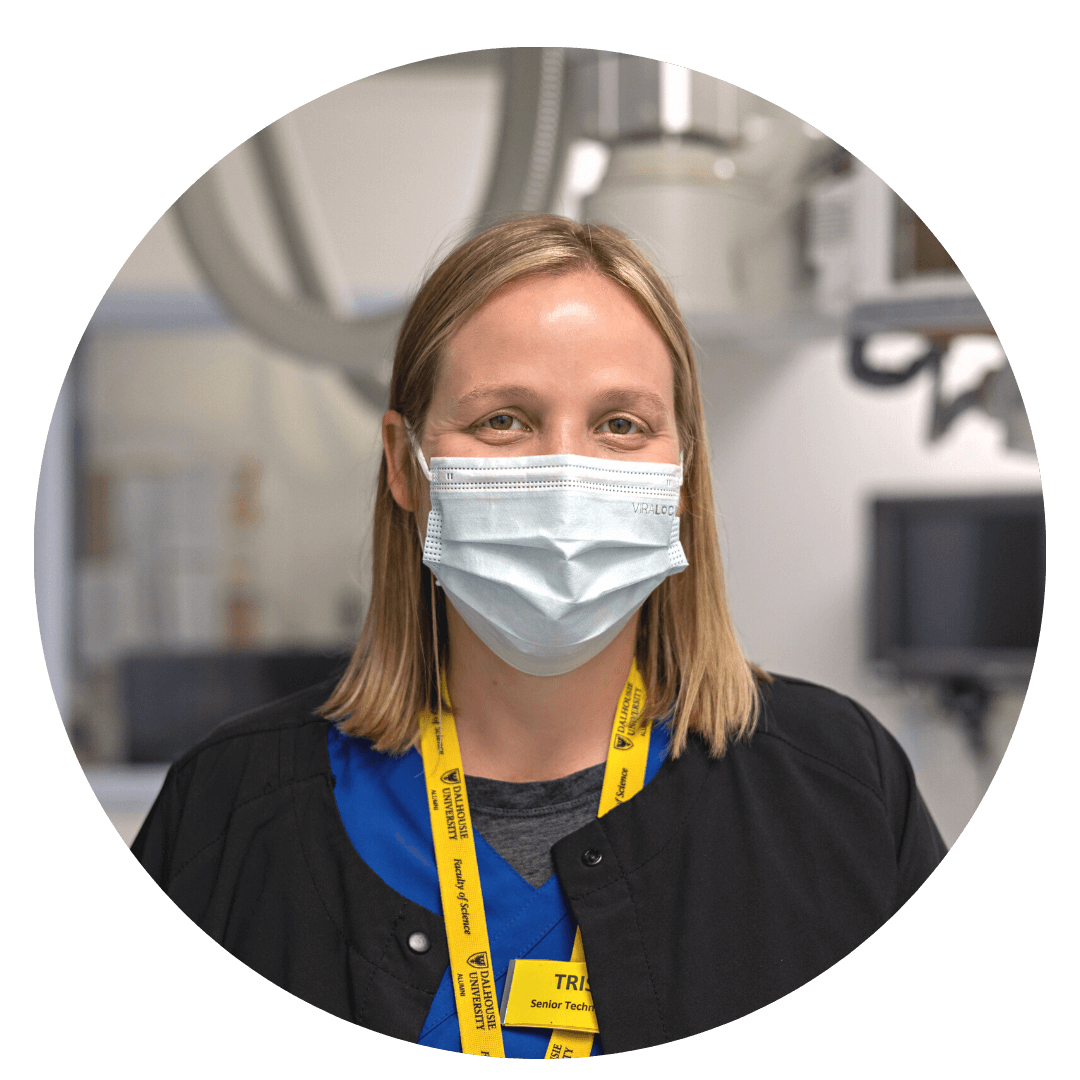 "Being a Radiology Technologist is a great career. We do a lot more than just take pictures. Every day is different. We have the opportunity to see and do so many different things. It's never boring and it's always rewarding. I love helping people and for me that's what it's all about. There's no better feeling than hearing how thankful or appreciative a patient is for your help. If you enjoy helping people and problem solving, this career is a good fit."
– Trish, Senior Radiology Technologist
Careers:
There are currently openings for all disciplines throughout Manitoba in rural and urban settings (although not all disciplines are offered in all areas). The hours of work do vary:
Radiologic Technologists – X-ray and CT scans are 24/7 in most hospitals (might not be the case in some rural settings). Hours of work are typically days/evening or days/nights, including weekends with some on call required. Mammography is days only (some positions require travelling to rural sites).
MRI Technologists – only available at certain sites, mostly within Winnipeg or in the surrounding area. Hours of work are dependent on the site and may include evenings and/or weekends. Some on call is required.
Nuclear Medicine Technologists – only available at certain sites, mostly within Winnipeg or in the surrounding area. Hours of work are typically Monday to Friday days with some on call required (depending on site).
Radiation Therapist – Monday to Friday, some off-shift hours may be required. Only available in Winnipeg (Cancer Care Manitoba HSC) and Brandon (Western Manitoba Cancer Centre)
Associations and Licensing
Everyone who wants to work as an MRT in Manitoba – both internationally educated MRTs and graduates of Canadian programs – must pass the Canadian Association of Medical Radiation Technologists (CAMRT) National Certification Examination. To be eligible to write the exam, you must have graduated from an MRT program recognized by the CAMRT. There are four disciplines represented among CAMRT's membership: radiological technology, magnetic resonance, imaging, nuclear medicine and radiation therapy.
Internationally educated MRTs (IEMRTs) – including Canadians educated as MRTs in another country – must complete the CAMRT Assessment Process. There are bridging programs designed to prepare MRTs for the CAMRT examination, help them meet the requirements for provincial registration and national certification, as well as assist them with a successful transition to their jobs. More information is available on the CAMRT website.