Nursing Testimonials
Whether relocating to Manitoba or deciding to stay in their home province, we're fortunate to have many great nurses in a range of nursing positions!
Check out the personal testimonials below from nurses that have shared their positive experiences while practicing in Manitoba.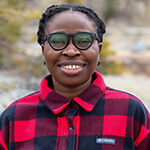 I was drawn to nursing because of the holistic approach to care. I wanted to help people through their health situations, comfort them, and support them as they navigate resources in their community. I spent the first five years of my nursing career at HSC Adult Emergency, which helped me ...
read the full story ...
---
Want to Submit a Testimonial?
Would you like to provide a testimonial about your time as a nurse in Manitoba? We are always looking for new and exciting stories to share with our viewers. If you are interested in sharing your story, please fill out our Testimonial Submission form.
Answer a few questions, provide a small bio and click Submit! We will be in contact with you in regards to posting your story for others to see.